PLEASE FEEL FREE TO CALL OUR PREVIOUS CLIENTS.
Ask them what you want. They are excited to recommend our services to you.
Preston & Sarah Pierson

970.449.3505

Korey & Kelle Kimble

307.752.9258

Kathy Ellingson

970.310.7723

Steve List 

970.231.1641
Lindsy Schmidt 307.760.5046

Jayland & Mary Wheeler

913.707.1200 – 913.744.7058

Jules Johnson

970.449.3999

Zane & Liz Stalkup

970.330.8541

The Garden Room

970.663.0312

Curt & Wendy Hay

 720.261.3641

Mike & Gina Moroney

303.791.2051
Frontier Academy Charter School

970.396.5527

Bride Jill West

303.549.5904

Brock & Kristen Boetcher

 970.590.2070

David & Ilene Chavez

303.452.24211

Matt & Claudia Oviatt

720.317.4336
Elizabeth

Shilof

970.669.3559

Ed & Karen Grosboll

970.215.5111

Flexx Productions

970.223.119

Sara Prince

720.261.2329
___________________________________________________________________
CHECK OUT WHAT OUR CLIENTS ARE SAYING ABOUT US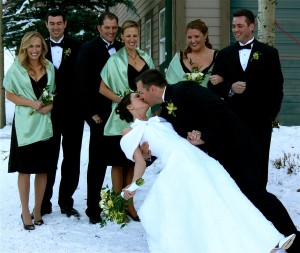 "Juan, Laura and I want to thank you for a great job at our wedding last Saturday. I loved your energy and all the guests loved it too. I hope to work with you again."
Kevin & Laura S.
"Dear Juan, I cannot thank you enough for the great job you did at our wedding reception. You truly made the whole wedding a success. My family loved you and your lovely wife. You certainly enjoy what you do! We especially loved the song you sang at the wedding. We could not have done this without our "personal wedding coordinator."
Jami & Tim L.
"Juan, You really took our wedding over the top. I was beyond pleased! The ceremony music was absolutely perfect! Exactly as I had imagined. I had so much fun at the reception. The music was awesome! I wish I could do it all again. Thank you for taking my ideas and making them happen. I know everyone had a wonderful time and thoroughly enjoyed the atmosphere your music and energy created. I couldn't have asked for a better wedding. You were a big part of that!" 
John & Stephanie R.
"Dear Juan, Thank you for everything you did to make my 50th birthday party a wonderful time! I've told you before that you are the best DJ I have ever seen…BY FAR! God bless you."
Mike M.
"Juan, thanks so much for being a big part of our wedding. Ryan and I agree that we have never been to a more fun wedding reception, and without a doubt, that was because of you! You would not believe the number of guests that commented on what an "awesome" DJ we had. We couldn't have been happier with the job you did. thank you so much for making our wedding reception so memorable and fun Ryan and I are so excited to say that the best wedding we went to was our own! Thank you."
Ryan & Nicole B.
"Juan & Debbie, You guys are the best! thanks so much for all you help with the Luau, for the hours of preparation in getting people involved an organizing not only the music but a multitude things to make this a success. We can't tell you how much we appreciate you and can't wait until the next time we get to work another fabulous party with you."
Roger & Gaynel T.
Voted Best Of Weddings 2010 by Brides of

TheKnot.com